Auto Cover Replacement Fabric with ropes and color matched webbing for all makers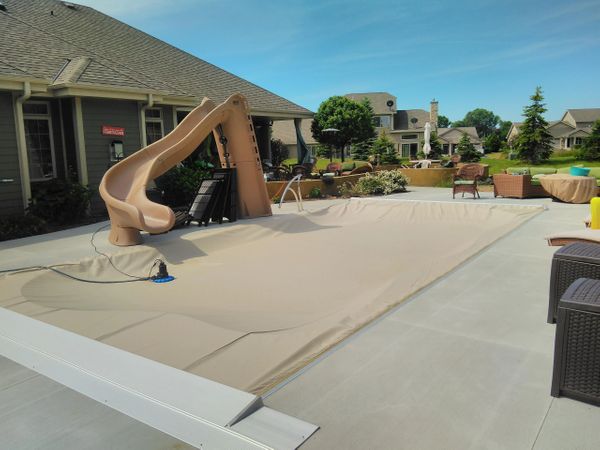 Auto Cover Replacement Fabric with ropes and color matched webbing for all makers
All of our covers are made by a leading cover manufacturer. We only use a premium 18 oz fabric. Color matched webbing is sewn and welded. Ropes are included and attached. Warranty is 5 years limited.
Navy Blue, Royal Blue, Light Blue, Beige or Tan, Brown, Forest Green, Light Gray, Charcoal.
Black available in limited quantities-call first
We need quite a bit of info to order a replacement cover. You can always email us or call 1-262-770-0668 or go to http://www.automaticpoolcovers.net/color-selection to see a pool in all the colors.
The basic info we need is:
Color
Manufacturer
Track width at widest point - inside to inside
Track length
Then add 3 foot to length and 1 to width and multiply by each then place in QTY box.
So a 20 x40 pool cover would be 840 sq feet and that number would replace the 1 in QTY box.
Check pulleys, track and squareness
Type of track-under track, indeck or top track
Pool Type-vinyl, fiberglass or gunite
Freight has really gone up this year so I am charging A flat rate which almost half of what I pay.